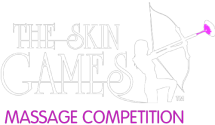 MASSAGE COMPETITION RULES
Read the rules and regulations surrounding our Massage Competition.
Massage Competition Schedule
Each Round 35 minutes total. (Preliminary, Sem-final, finals)
5 table set-up
5 minutes for client consultation
25 minutes service
Thursday – March 14th
8am – Judges Meeting/competitors check-in
9am – 6pm  Vendor Exhibition Hall
9am – 1pm: PRELIMINARY Rounds all categories
1pm – 2pm  Lunch 
2pm – 6pm SEMI-FINALS all categories
Friday – March 15th
9am – 2pm – Vendor Fair and Demos
3pm – 6pm MASSAGE FINALS ROUND
8pm   MASSAGE AWARDS CEREMONY & RECEPTION
Players, Rules & Expectations
Players may enter up to 4 categories

Players understand that this is "performance massage" which is more dramatic and exaggerated than traditional treatment room massage while demonstrating exceptional skills within each category

Player provides linens, tools, oil and any items needed to perform their service. Massage table and Face cradle provided by TSG

Massage recipients volunteers

will be assigned to each player by lot

 

Massage recipients must wear underwear, bathing suits or nipple covers 

Any area which is not being treated must be covered/draped

Professional license and insurance must be active at time of competition. 

Therapists must submit proof of license and insurance in accordance with their home state and federal regulations

Inappropriate behavior will have a zero tolerance policy and will result in immediate disqualification

All techniques and modalities must be within the LMT's scope of practice and covered by their insurance
Awards Show for each category will be Friday night at 8pm followed by reception and photos.
1st Place –

  GOLD MEDAL/free entry next year

*PLUS* plaque and $500 
2nd Place –

SILVER MEDAL/

free entry next year
3rd Place –

  BRONZE MEDAL/free entry next year