Brighten, tighten and heighten your skin's beauty to new levels with the tried-and-true: Vitamin C serum. Vitamin C is an amazing antioxidant that works hard for your skin by blocking damage caused by free radicals, so it minimizes fine lines and wrinkles. It also reduces inflammation, hyperpigmentation and promotes collagen production, helping to reveal a more youthful and radiant complexion. Vitamin C also protects against environmental pollutants and sun damage.
It's easy to see why so many skin care aficionados tout the benefits of vitamin C.
We all know that during colder months, vitamin C is a hot topic, so just like when you want to prevent colds and stay on top of your health, you might reach for a glass of orange juice in the morning, well, think of vitamin C serum like orange juice for your skin.
The best time to apply it is in the morning because it gives your skin a big boost of protection as you navigate your day. It helps combat various stressors and pollutants you and your skin come up against daily.
Make sure you have vitamin C in your anti-aging arsenal as it's one of the top go-to ingredients for going toe-to-toe against the hands of time.
Here are six vitamin c serum benefits that offer proof of why you should be using vitamin C in your skin care regimen:
Sun Protection
Vitamin C shouldn't replace your daily dose of sunscreen, but it can help to reduce the damage that comes from being exposed to UV light—the harmful effects of the sun.
Brightening
Vitamin C helps to fade dark spots, such as hyperpigmentation, sunspots, age spots and melasma, and it reduces dullness. Skin looks youthful and even-toned.
Anti-Aging
You can help prevent premature wrinkles with vitamin C because it stimulates collagen growth and has been found to increase the thickness of skin.
Hydrating
Your skin will be more lush and moisturized because vitamin C helps it retain more moisture and reduces transepidermal water loss.
Prevents Skin Sagging
Consistently using vitamin C serum can help boost collagen production which creates skin that is more elastic and firm.
Refines the Under-Eye Area
Vitamin C serums can plump the under-eye area while also keeping it hydrated and smoothing any fine lines present.
How to Use a Vitamin C Serum
You can apply a vitamin C serum once or twice a day and incorporate it into your skin care routine usually after your toning step and right before you moisturize.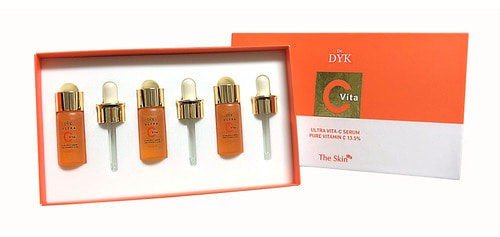 How to Choose a Vitamin C Serum
Vitamin C serums come in different forms, such as L-ascorbic acid, ascorbyl-6 palmitate, and magnesium ascorbyl phosphate. However, L-ascorbic acid is the most well-known, widely used and stable form. One of the most potent of the L-ascorbic Vitamin C Serums is the Vita C Serum by Dr DYK developed by Dr. DoyeunKim, a female cosmetic formulator and developer with a Ph.D. and 20 years experience as an award-winning chemist.
When choosing the best vitamin C serum, you'll quickly realize that these serums have a huge range in cost for a one ounce—a range of $10 to upwards of $300.
Make sure you pay attention to the concentration levels and always choose one with a concentration of higher than 8 percent, the minimum amount that has significance. Also note, benefits usually begin tapering off at around 20 percent.
Takeaway
Vitamin C is helpful for protecting the skin, evening skin tone and protecting it against premature aging. The key is consistency and working it into your routine in a way that works best for you.