I wanted to introduce you to Jacie Eber, the Manager of the Health and Beauty Industry at Designs for Vision. Designs for Vision is the world leader in customized magnification, and Jacie is passionate about helping beauty professionals discover how loupes can improve their work.
I sat down with Jacie to learn more about her career journey and goals helping the beauty industry. She started with Designs for Vision in sales over a decade ago and worked her way up after realizing the need for loupes among beauty professionals. As the Beauty Industry Manager, Jacie travels to shows to educate on loupes.
Her goal is for beauty brands to know Designs for Vision as well as doctors do – as the gold standard in customized magnification. Through customized fittings that measure ergonomic positioning, Jacie ensures each pair of loupes is tailored for optimal comfort and clarity. This personalized process results in loupes that eliminate eyestrain and allow professionals to work pains-free.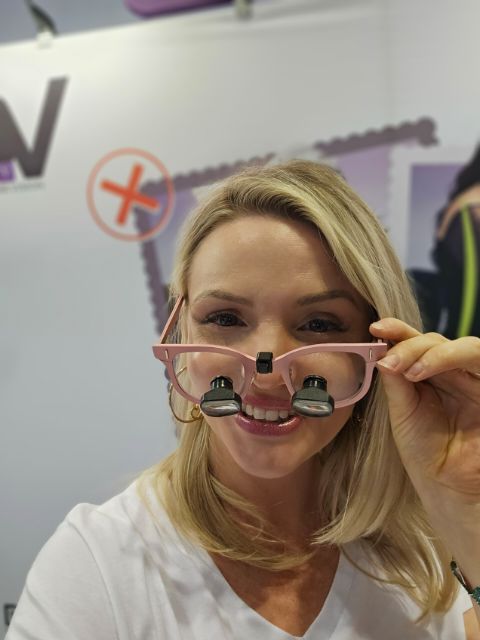 The loupes from Designs for Vision are more expensive than typical magnification devices due to the specialized, customized nature of their production. Each pair is made specifically for an individual based on detailed measurements and specifications. This ensures a perfect fit but requires higher-quality optics and precision craftsmanship compared to one-size-fits-all products. The result, according to Jacie, is loupes that can last for decades when properly cared for.
Jacie shared a success story that perfectly captures why her work matters. She met a lash artist considering retiring due to body pain. After years of struggling, the woman was getting into training as her only option outside of lashing. After going over loupes with Jacie and seeing the demo, the lash artist was ecstatic to continue her dream career thanks to loupes. Moments like helping artists stay in their passion drive Jacie's mission.
While loupes are an investment, Designs for Vision offers interest-free payment plans. Best of all, a 45-day trial allows you to ensure the right loupes improve your work.
For more information, you can connect with Jacie Eber below or meet her at The Skin Games live event.
Jacie Eber
Manager- Health & Beauty Industry
Designs for Vision, Inc.
Cell: 412.841.9318
Email: jeber@dvimail.com
Main Office: 800-345-4009
4000 Veterans Memorial Hwy.
Bohemia, NY 11716-1024
DesignsForVision.com