Compassion is what drives Stephanie Andresen and is the catalyst that steered her into the world of esthetics. Her empathy for others is evident in her role as CEO of Brilliant Bodywork MedSpa, and the extremely detailed and thoughtful service offerings provided under her guidance.
Stephanie's empathy extends even further.
She started a nonprofit called Restorative Ink, that provides free tattoo removal to survivors of domestic violence and trafficking.
Stephanie Andresen approaches her esthetics work from a communal standpoint that not only transforms the individual but ultimately transforms the entire community.
See how she gives back and the plans she wants to share with her global community of estheticians.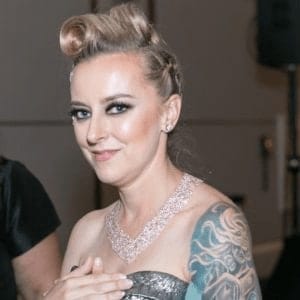 So, how long have you been practicing?
I have been practicing esthetics for over 11 years and am loving every minute of it.
And, what inspired you to become an esthetician?
My love of helping people to feel whole and loved is what led me into the field. Esthetics is so much more than just caring for clients' skin, but also helping them to regain confidence and self-esteem.
Where do you practice? Clinic, spa, studio, solo, etc.?
I am the Founder and CEO of Brilliant Bodywork MedSpa, and Restorative Ink Inc., a 501c3 nonprofit that offers free tattoo removal to domestic violence survivors and trafficking survivors.
How do you achieve the best skin results for your clients?
To achieve the best results with my clients, I always begin with an in-depth consultation. I learn about their diet, exercise, and skincare routines. I ask about medical history and medications as well as stress levels. Most importantly, I ask them about their goals and what they are willing to contribute to achieving them.
How do you handle some of the challenges that you might experience working as an esthetician?
Each challenge in my career as an esthetician and CEO is handled as an opportunity for growth and development. I find that having a good balance of heart and brain helps to work through the challenges with minimal anguish.
What new products or services are you interested in trying in your practice?
I would actually love to learn the art of 3D areola tattooing for breast cancer survivors. Unfortunately, I have had several friends have mastectomies due to breast cancer and would love to help them feel whole again by being able to recreate a realistic looking areola post reconstructive surgery.
How do you stay up-to-date in this industry and what new techniques are you currently learning about?
I stay up to date in our industry by soaking up all of the knowledge I can from colleagues, tradeshows, classes, expos, and competitions. I also believe in investing in at least one major skills class per calendar year to continue my growth and relevance.
What industry trends do you think will have the most impact this year?
I think that the industry is trending into more mind/body wellness. We are living in a world that is oversaturated with electronics and technology. At the end of the day, many people are seeking a way to feel reconnected to themselves. We as practitioners have the humble opportunity to help facilitate the art of relaxation and how to recreate that sensation in their own controlled environment.
What industry trends do you think we as professionals should push back?
I think that we as professionals should push back the idea of being photoshop or filter perfect. We as professionals owe it to each and every client to set realistic expectations each and every time.
Do you have a skincare specialty? Please explain.
I consider myself a transformational skincare specialist, meaning that clients with various skin issues or concerns can come to me for expert advice and treatments. I enjoy working with acne, anti-aging, hyperpigmentation, tattoo removal, and laser clients the most.
What would you say is your signature technique and approach to skincare?
Honestly, my signature technique is listening to what the client goals are and educating them on how to work alongside me to reach those goals.
Who do you allow to treat your skin as your personal esthetician?
I actually see the other skincare experts here at Brilliant Bodywork. Each of our estheticians has been trained by myself and I wholeheartedly trust them with my skin and even my eyebrows!
What is your proudest accomplishment in this industry?
My proudest accomplishment in the industry has been being able to give back to others. We donate our time to the Shriners Hospital for Children, dressing up as favorite characters to visit and uplift the patients. We participate in food drives, clothing drives, and school supply drives. We pack over 500 boxes a year for Operation Christmas Child.
We also are able to offer relaxing spa services to cancer patients free of charge through our Wings of Hope program and free tattoo removal for sex trafficking survivors and domestic abuse survivors through our Restorative Ink program. I am so happy to be able to give back to the community that has helped us so much over the past eleven years.
Can you name a person who has had a significant impact on you as an esthetician? Why and how did this person impact your life?
An industry leader that I really admire is Denise Fuller from the National Aesthetic Spa Network. Denise has overcome such adversity to become such a strong and intelligent woman in our community. She has pushed me outside of my comfort zone on several occasions and helped to find my place within our aesthetics community. I admire her greatly for being a fantastic educator, cheerleader and friend.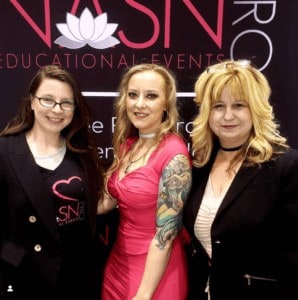 What are your current goals?
My current goals are to help other estheticians and MedSpa owners give back to their communities by helping them to replicate programs such as Wings of Hope and Restorative Ink. By replicating these programs throughout the world, I feel that we can increase our outreach for helping others heal emotionally and physically from illness and trauma.
What do you hope to contribute to the world of esthetics? What do you want to be known for?
I want to be known for helping others to find their passion and to give back to their communities. I love helping clients and other business owners alike, find a cause or an issue that they care greatly for and then help to formulate a movement or solution.
How did you first hear about The Skin Games?
I first heard about The Skin Games through NASNPRO. Denise was asking if anyone would like to receive a scholarship to compete and after much consideration, I swooped up the opportunity.
And, why did you decide to compete?
I competed because I really wanted to challenge myself. I am naturally very introverted and quiet so competing in an international competition was really a challenge for me.
What has it meant for you to be the Esthetician of the Year 2018 winner? How has your win impacted you personally and professionally?
Being Esthetician of the Year has been a wild ride. It has helped me to fully understand the impact that we as estheticians make in our everyday lives. It has given me the self- confidence to chase my dreams of starting a nonprofit and assisted me in networking with others from all over the world.
Just this past year, you were a judge for The Skin Games. How was this experience? What did you learn?
Being a judge was a great experience. It is a different kind of stress being on the other side of the table, but it gave me a newfound respect for all of my fellow judges. Whenever I competed in the past, I never watched other contestants' videos. Being a judge, you watch all of the videos and this year, I realized just how fierce the competition really is.
Why did you choose to participate in the Compassionate category for 2020? Who or what is your focus?
We recently started a program called Restorative Ink that allows victims of sex trafficking or domestic violence to have their tattooing or physical branding removed free of charge in a safe and caring environment. For these survivors, there is a compelling amount of healing that comes from the treatment room that we, as estheticians can facilitate. By helping to heal these past emotional and physical wounds that were left behind due to each person's unique situation, we are assisting each survivor in regaining their personal identities once again.
I chose to participate in the Compassionate category in 2020 because not only could the prize money help heal hundreds of survivors, but awareness of this epidemic needs to be brought light. I am just a small-town girl living in a skin-care world, but sadly, in this small rural community, population of about 15,000 people, we have an overwhelming number of survivors coming forward each day.
It breaks my heart to think that if in this small community trafficking is this prevalent, how large is the issue? What is worse is that I was completely unaware of the epidemic until I started digging. Now I am motivated each and every time I'm able to remove a tattoo that was forcibly placed on a client and I want to prevent this from happening in the future.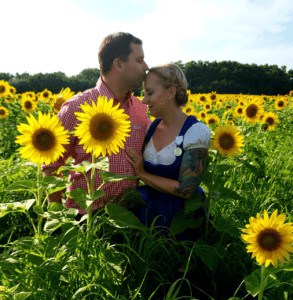 Is it true that you're thinking of going for the title again this year? If so, what's some of your motivation to go for another big win?
I am actually going to compete in a few different categories this year and I am super excited about the Esthetician of the year award. My motivation is multidimensional. In 2018, Adam, my husband as well as business partner, and I started Restorative Ink Inc. and I would love to win the $10,000 and donate that money to provide more survivors with life changing tattoo removal services. It would be my highest honor to gift this money to an organization that helps to rebuild and transform the lives of others.
Also, it is no secret that 2018 was a very difficult year for my family. When I competed in The Skin Games in 2018, my mother age 59 was battling breast cancer. Just two weeks after I had won the award, my mother passed away suddenly. It left me feeling numb and depressed. I even contemplated leaving the field of esthetics as I felt completely lost in the world and felt compassion fatigue setting in. Not to mention a couple bumps in the road with my own health.
I knew that I had to refocus my mind, body and soul to grow from my grief and loss. In 2019 I allowed myself time to mourn and heal and in 2020 I plan to honor my mother and myself with a beautiful comeback. I pray that there is more healing to come in the next few years and that my story helps to inspire others to keep moving forward even when adversity strikes.
What insights or suggestions could you share for other estheticians interested in participating in The Skin Games?
Keep your head in the game and give it your all. Follow the rules to a T and remember to have fun with it.
Has being affiliated with The Skin Games helped your business?
Being a part of The Skin Games has launched my self-esteem to new levels. It has really helped me to network with colleagues from all over the world and to have a fantastic platform to share my talent.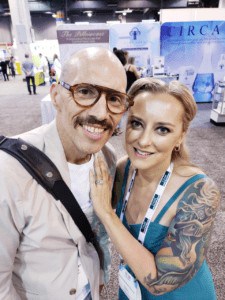 How do you hope being a Player in The Skin Games can help further your business goals?
I hope that by participating in The Skin Games it will help me to continue networking with others in the industry and to help further develop and replicate Restorative Ink to help more survivors around the world.