Renewal seems to be a constant theme in the life of Kelly Wolcott. Her esthetics journey began with the birth of her child. She discovered solutions that were life-changing and made her passionate to learn more.
Today, armed with national and international certifications, Kelly helps clients experience their own renewal with her age management protocols.
This transformative powerhouse sold her east coast esthetics business and moved to the west coast to start a new one.
Learn about her WISH and how Kelly Wolcott believes The Skin Games will allow her to achieve her goals of helping other estheticians develop and reaffirm their skills.
So, how long have you been practicing?
I jokingly say, "Since the last century." Fell in love with all things esthetics in 1994, started my education in 1999, and have been licensed since 2000.
And, what inspired you to become an esthetician?
After the birth of my second child, my skin was a hormonal wreck. It was painful, looked terrible, and my self-esteem was suffering. I did not know what to do about it. My hairstylist suggested I try the esthetician that worked in the salon, so I did.
Her name was BB. She was an older woman, at least to me at the time, not so much now! She had so much knowledge about how the skin functioned; I was fascinated. BB was able to get my skin clear and healthy with professional treatments, a great home care regimen, and nutritional supplements.
A passion was ignited. This is what I wanted to do for a living, to give to others what I had received. Five years later, I went to esthetics school in Atlanta, GA.
My first day of school, I thought I am going to help everyone have healthy, beautiful skin just like BB did for me. I fell in love with the process of doing what we do, studied hard, graduated at the top of my class, and obtained my license.
Education has always been a priority for me. In order to realize my full potential, I have sought out and taken as much post-graduate education as possible. The decision to pursue advanced training led me to obtain two international certifications: CIDESCO Diplomat, ITEC Certification, and a national certification, NCEA. All of the certification processes were challenging, stretched me professionally, and have made me a better esthetician.
Where do you practice? Clinic, spa, studio, solo, etc.?
My practice, WISH Esthetics, is located in Santa Cruz, CA. WISH stands for Wildly Intense Skin Health. I am a solo esthetician, located inside a healing arts center where the practitioners focus on bodywork.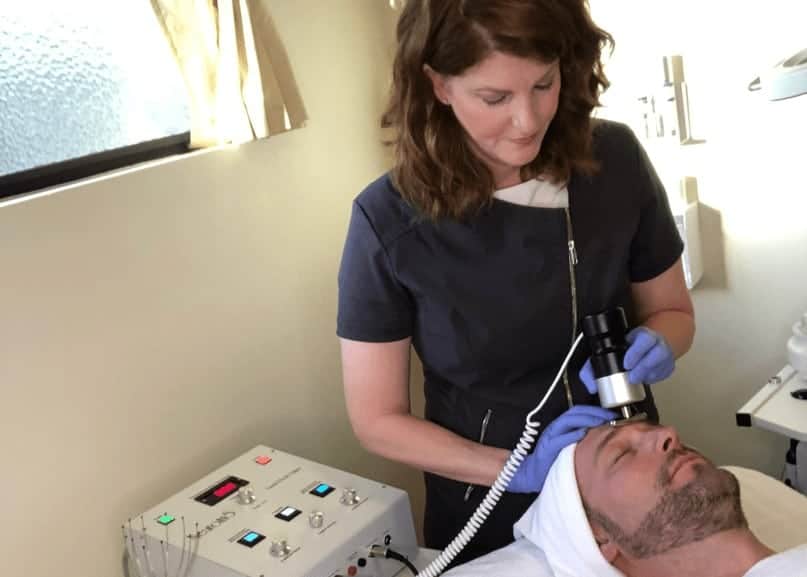 How do you achieve the best skin results for your clients?
Education. It all starts with the consultation. Getting a clear picture of what my clients' desire is for their skin. The intake form is used to get a general idea of their needs/wants. I use a skin scanner as the second step in my consultation, this allows me to see what's really going on with their skin. It also allows my client to see what is really going on with their skin.
From there, I partner with them to design a professional and home care plan. During their session, I spend time explaining the 'what and why' of each step in their service. I learned early on in my practice to never skip a step with any treatment protocol. Over the years, I've been able to develop my craft and personalize it, but I never skip steps.
A home care regimen is also given to the client on their first visit. Explaining the importance of using products designed to help with their unique skin condition, along with how to use/apply them is included with their service.
I also take this time to suggest a professional service plan and set realistic expectations of the results they can achieve. It's my WISH List for their skin. Building a relationship with my clients and helping achieve their skincare goals is a privilege not taken lightly. I consider it an honor.
What do you find to be the most challenging thing about managing aging skin?
The most challenging thing about managing aging skin . . . patience.
We live in an environment of instant gratification. Clients have access to so much information, some good, some really bad. Helping them understand and navigate the hype around the "next best thing" can be difficult and frustrating at times. Educating about how the skin functions helps them realize their skin didn't get in the condition it's in overnight and it isn't going to improve overnight.
What new products or services are you interested in trying in your practice?
I am really interested in learning some new facial massage techniques focusing on the fascia. I find this part of our body's physiology fascinating. So far, I've taken Jane Mann's Facial Contouring Massage class; it was very informative.
I also want to take a nutritional certification course. Our skin reflects what's going on inside the body. Having a clear understanding of nutrition's role in healthy skin is one of my goals.
How do you stay up-to-date in this industry and what new techniques are you currently learning about?
I read our trade magazines – all of them. These are a great resource for keeping up with current trends. I also belong to a few professional organizations; these have been paramount in staying-up-to-date. Some of the groups have discussion platforms that are focused on what's new, what works, how to solve any issue, and great business strategy tools.
I follow some of the industry-specific Facebook groups. Many of the groups will post educational offerings from product lines, independent educators, equipment manufacturers, etc. I am currently learning about utilizing social media as a platform to build my business. I've started over in a new location, moving from the East Coast to the West Coast. Social media, used correctly, is a powerful business-building tool.
What industry trends do you think will have the most impact this year?
Nano infusion therapy. It's within our scope of practice and the visible results are amazing. Vibroacoustic Technology – sound therapy – for beauty services. It's a non-invasive treatment that improves the appearance of fine lines/wrinkles, assists in lymphatic drainage, increases circulation – blood flow makes the skin glow, lifts and firms facial muscles, and, over time, improves the overall tone and texture of the skin.
What industry trends do you think we as professionals should push back?
Anything that goes beyond our scope of practice. There are a lot of newer devices on the market that are questionable for us to use. My position has always been to wait for a period of time before adopting any new service/technology and see what happens with it. Many times, the latest and greatest turns out to be a flash in the pan, sometimes with dire consequences for the practitioner and client. My goal is to offer proven, safe services/products to my clients.
What would you say is your signature technique and approach to skincare?
My signature technique and approach: paying attention to the details, never ever skipping steps, always using the most effective product or piece of equipment in my arsenal for whatever skin condition I am addressing.
My goal is to help the skin achieve the healthiest state possible. Healthy skin is beautiful skin.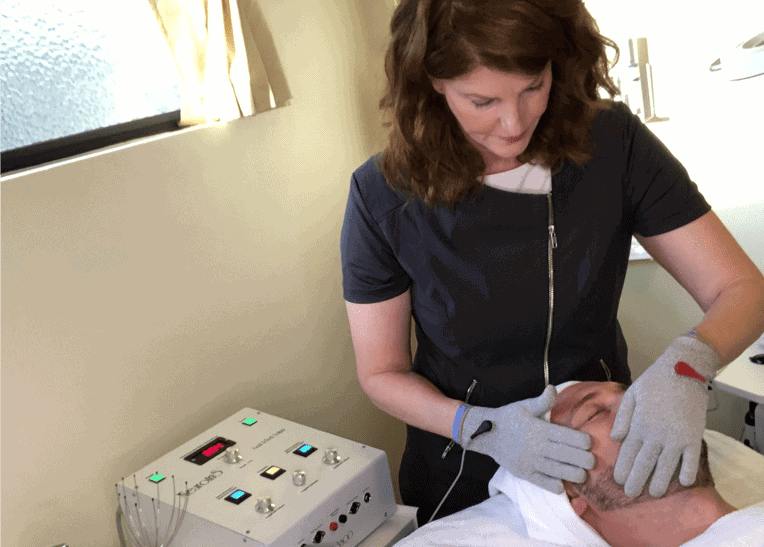 Who do you allow to treat your skin as your personal esthetician?
Right now, it's me. Building a new business hasn't allowed me the time for finding my new esthetician.
What is your proudest accomplishment in this industry?
My proudest accomplishment is taking my profession seriously and obtaining the education necessary in order to develop an understanding and skill set that helps a client achieve results they never thought possible.
Can you name a person who has had a significant impact on you as an esthetician? Why and how did this person impact your life?
There are two people who have had a significant impact on me as an esthetician: Elaine Sterling and Lyn Ross. These two people have taught me so much about every aspect of our industry.
Elaine Sterling helped me achieve my long-time goal of becoming a CIDESCO Diplomat. I met her at an esthetic networking function.  She had opened a school and was going to offer the CIDESCO certification. I was overjoyed! She suggested I take the ITEC Certification which she was currently offering, while the school was in the process of being approved to offer CIDESCO. Elaine has always made time to discuss any and all things esthetics with me. She is a wealth of knowledge and humbly shares with me.
Lyn Ross has been pivotal in my development as a successful esthetician/business owner. Her willingness to share her knowledge of all things esthetics – from advanced clinical training, and business strategies, to help troubleshoot difficult skin conditions or undesired outcomes from treatment – her guidance and mentoring have been instrumental to my success. When I moved, I decided to sell my business. Lyn worked with me to help me create a plan. When the business sold, she worked and continues to work with the new owner to help them be successful. Now that I am starting over, she is continuing to offer her guidance in helping me create a new successful business on the West Coast.
I approach my business with the utmost integrity. As do these two industry icons.  They have had a huge impact on who I am as a person, an esthetician, and the industry as a whole.
What are your current goals?
My current goal is to establish a thriving esthetic practice in Santa Cruz. After that, I want to become an advanced educator in our industry. Esthetic school teaches the basics. In order to really understand our profession and be successful, postgraduate education is a must.
What do you hope to contribute to the world of esthetics? What do you want to be known for?
I want to help develop estheticians, teach skills that will allow for great business success, and elevate the profession of esthetics. I want to be known for giving my best to whomever I serve, whether client, colleague, or friend.
How did you first hear about The Skin Games?
At a trade show several years ago.
And, why did you decide to compete?
Setting goals that stretch me as a professional has always been important to me. This challenge takes me way out of my comfort zone. I think it will allow me to see what I can do as a professional.
Is this your first year competing?
Yes
Why did you choose to compete in the Age Management category?
Most of my client base comes to me looking for age management help. This has led me to seek out and discover modalities/products that will help produce real change in the skin. One of the modalities I use is microcurrent.  The 8-week case study will allow me to showcase the benefits and amazing results one can achieve utilizing it.
How do you hope being a Player in The Skin Games can help further your business goals?
It will allow potential clients the opportunity to see the effectiveness of my work and help me build credibility as an expert in my field. In becoming an educator, it will demonstrate that I have the experience necessary to help estheticians achieve their full potential.