Esthetics for Voula Makropoulos is not a job—it's her passion. That's one reason she does not have a menu of services in her practice, because her passion guides her to think outside of the menu and she focuses on each client as an individual.
It's this individuality that dictates the exact skincare treatment each client will receive.
It's clear to see that skincare is a true passion for Voula. The Skin Games 2020 will be her third year competing.
Learn more about how it has helped Voula Makropoulos elevate her esthetics knowledge and how it's been an amazing marketing and networking tool.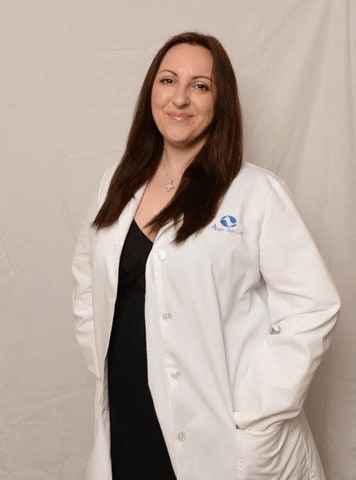 So, how long have you been practicing?
Since 2013
And, what inspired you to become an esthetician?
What inspired me was that I have always been a person who has loved helping, educating and putting smiles on people's faces.
When I walked into the esthetics school, I knew I was in the right place and this was my calling.
Where do you practice?
I own a 2-story professional studio in Melville, NY, called Aluov Skin Care on Long Island. I have been a solo practitioner for the past five years.
How do you achieve the best skin results for your clients?
I always begin by taking an in-depth consultation when the client first comes to see me. I get to know their goals and what they are looking to achieve. This allows me to customize a treatment which will fulfill their wants and needs. Together with the client, we establish a strong relationship and work together to move forward.
What new products or services are you interested in trying in your practice?
I'm very interested in learning anything pertaining to this industry and my scope of work. There is not one particular product or service because anything professional sparks my interest.
How do you stay up-to-date in this industry and what new techniques are you currently learning about?
Keeping up to date in this industry is not an option, it's a necessity. Magazines, books, social media, especially social platforms like the EC, online courses and classes are the few methods I take in educating myself. At the moment, I am taking an online cool globe class and facial cupping which is a lot of fun to learn.
What industry trends do you think will have the most impact this year?
I believe CBD will be the top trend this year. It's becoming very popular and a lot of clients are asking about it.
What industry trends do you think we as professionals should push back?
Quick fix. The road to healthy skincare is not a sprint it's a marathon. In-spa treatments, as well as an at-home regimen, will get long-lasting results. A one-time cream or pill or injection will not.
What would you say is your signature technique and approach to skincare?
My signature technique and approach is simple—I customize all facials according to my clients' goals. I do not offer a "menu." Instead, I evaluate their needs and treat each client as an individual.
Who do you allow to treat your skin as your personal esthetician?
When it comes to getting a facial, it's simple. Show me the table and your license and I'm all in. I stand by, education is key and this is another method I use to learn.
What is your proudest accomplishment in this industry?
My proudest accomplishment would be celebrating five years at my practice. I'm very proud of myself that I was able to surpass all the obstacles and make this great milestone in business.
Can you name a person who has had a significant impact on you as an esthetician? Why and how did this person impact your life?
Deana Beaver impacted my life as an esthetician. She was my esthetics instructor and I remember how much she knew and how well she taught it. She encouraged me way after school had finished and was one of the reasons I actually pursued the opportunity to compete in The Skin Games, after just a small chat with her.
What are your current goals?
My current goals are to continue growing my business and continue receiving amazing reviews from my clients because their success is my success as well.

What do you hope to contribute to the world of esthetics? What do you want to be known for?
I would love to be known for my kindness, my business ethics, my perseverance, my "there is no stopping me attitude." This is not a job, it's a passion.
How did you first hear about The Skin Games?
I first heard about The Skin Games through the Esthetician Connection
And, why did you decide to compete?
After hearing about The Skin Games, I knew it would be an opportunity to meet and share ideas with the top professionals in our industry. I also wanted to challenge myself by competing against these same individuals.
Is this your first year competing?
No, it's my third year
Why did you decide to compete in the Open Category? What is your exact focus in the Open Category?
Inspiration comes in many forms and I knew the open category would allow me to keep my options open.
How do you hope being a Player in The Skin Games can help further your business goals?
It already has! The knowledge alone is worth the work and time and it is a great marketing and networking tool. My clients love to hear all about The Skin Games and what I'm doing next. They root for me every year and that itself has made me so happy to be a competitor.