Denise Sanabria possessed a passion she never knew she had, but when she discovered this newfound devotion, it gave her a new career, two new businesses, and a lucrative obsession, along with other goals to continue conquering.
Not long ago, Denise worked as an office manager. When clients began inquiring about services she wasn't fully familiar with, she learned that estheticians performed them. Soon, she was enrolled in beauty school and fell in love with skincare.
After transforming her career, Denise now transforms the skin and eyelashes of her clients.
As a Player in The Skin Games last year, Denise will be a Platinum sponsor this year.
Learn about her amazing journey in her career and with The Skin Games.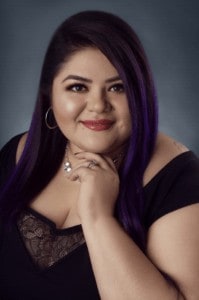 So, how long have you been practicing?
I've been a licensed Esthetician for 6 years.
And, what inspired you to become an esthetician?
I was working for a doctor as an office manager when our clients asked about facials and body wraps. I actually didn't know who performed those services until I did some research and found out what an esthetician is.
I decided to enroll in beauty school at night and once in school, I just fell in love with skin. I wanted to learn it all and help everyone struggling with skin problems. It was a passion I had no idea I wanted, but am so glad I found.
Where do you practice?
I own a small spa in San Antonio, Texas called The Fountain of Youth Spa.
How do you achieve the best skin results for your clients?
In my spa, we only use the highest quality skin products and modalities. We completely customize a treatment plan for each individual client which includes an aftercare regimen as well. We always listen to our clients' needs and completely transform their skin.
What new products or services are you interested in trying in your practice?
We are super interested in all the new CBD protocols and skincare that are on the rise.
How do you stay up-to-date in this industry and what new techniques are you currently learning about?
My staff and I are always attending conferences and continuing education seminars. Advanced education is always a big priority with me as I feel when we are better educated, we can better educate our clients.
I always want to be on top of the beauty industry and learn about all the new devices and treatments available. I definitely love wowing our clients with our top of the line treatments.
What industry trends do you think will have the most impact this year?
I've seen a big influx of more women and men taking preventive measures for their skin. Now more and more people are wanting less aggressive treatments and more natural and holistic skincare, so I definitely see that getting bigger in the next year.
What industry trends do you think we as professionals should push back?
I feel some professionals are still stuck doing more aggressive and fast treatments versus treatments that take a little longer, but are more effective in the end. Some professionals are pushing boundaries with clients' skin and resulting in bad reactions or worse permanent damage.
What would you say is your signature technique and approach to skincare?
I am more of a "less is more" kind of person. I get clients who come in and just want all these treatments done just because they saw some celebrity doing it at home. Well, almost 100% of the time, a really good deep cleansing and oxygen facial will do the trick for them.
Clients always want that "wow factor" and they think they need the most aggressive chemical peel when in reality, they just need a really good custom facial and a professional home care regimen.
Who do you allow to treat your skin as your personal esthetician?
I personally either have one of my staff members do my skin or I'll do it myself, but I do prefer to be pampered by my staff.
What is your proudest accomplishment in this industry?
Honestly, I am proud every day I am able to astound my clients. I feel in our industry it's all about rebuilding clients' confidence in their skin.
People come to us because they don't like something about their skin or have some major skin concerns, so it's our job to be able to give them that youthful skin or clear complexion.
I absolutely love when my clients are happy; they really do change when they are happy with their skin.
Can you name a person who has had a significant impact on you as an esthetician? Why and how did this person impact your life?
I actually have a couple of people who have impacted my Esthetician career, they are: my mom, my sister, and my husband. In the beginning, I really didn't think I was making the right decision going into esthetics. People were telling me it's not a real career and that's the lazy way out, but my family kept telling me I can do anything I set my mind to. They helped keep my confidence up and still to this day, always encourage me to keep going and never settle. I wouldn't be where I am today without their support and confidence in me.
What are your current goals?
My current goals are to expand to another location next year and become a lash educator.
What do you hope to contribute to the world of esthetics? What do you want to be known for?
I want to be known for my innovative skincare treatments and for being an amazing mentor to other estheticians.
How did you first hear about The Skin Games?
I heard about The Skin Games on the Esthetician Connection Facebook page.
And, why did you decide to compete?
I wanted to see where I stood in our industry and to meet other professionals from all over the world.
What category did you participate in last year at The Skin Games and why did you choose that particular category?
I participated in the Eyelash category as lash extensions have become my obsession. In my area, lash extensions are what I am known for and I wanted to put my skills to the test.
Has being affiliated with The Skin Games helped your business?
Most definitely! Being a part of The Skin Games has shown my clients and future clients that I am serious about my career and that I am going to take care of them.
What made you decide to sponsor The Skin Games this year?
Participating last year and getting to talk to other participants about The Skin Games and why they competed, made me want to be a part of this amazing show.
Not one person had anything negative to say and all their positive feedback just made me feel so proud to be involved. I want to help spread the word about The Skin Games as I feel it makes such a great impact on our industry.
Please share some details about your sponsorship and how you think it can spotlight your business and overall goals?
We decided to be a platinum sponsor because we have a new lash company (Texas Lash Ladies) that I feel is going to change the lash community, and with The Skin Games, it can help bring awareness to our company.
We want to show lash artists and future lash artists that there is a company out there that is all about bringing high-quality products at an affordable price and new innovative training that they can count on.
I know The Skin Games will get our name out to them and it's going to be a game changer.